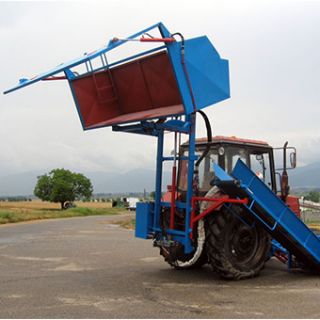 Lavender Harvester MKL 3KT with unloading container
The model MKL 3KT is a harvester designed to cut lavender by means of one-side header mounted to the tractor and transporting band moving the cut lavender from the header to a container at the back of the tractor that can be lifted by hydraulics to the heigh of 2.4 meters and unload the cut flowers into another vehicle.
A special mechanical unit lifts up the plants directly from the ground and the wave-shaped rubber band attracts them to the cutting device. Being cut, they are taken up by a moving transporter band which carries them rear of the tractor where they are collected in a container. When filled up this container can lift hydraulically and unload the load into another vehicle, providing space for another harvesting round.
MKL 3KT is driven by hydraulics. The steering is manual through a joystick and 12V electrical power is activating the electromagnetic distributor.
Productivity
0.68 acre/hour (0.30 hectars/hour)
Tractor speed
3.0 km/h
Cutting height from the ground level
minimum
0.1 m
maximum
0.55 m
Distance between lavender rows
1.4 m (0.7 м, 1.6 m)
Maximum opening of the header
0.8 m
Inclination of the header arms
from 0 to - 30 degrees
Inclination of the header frame
from +15 to - 15 degrees
Type of cutting
movable knife and fixed counter-knife

Driving type: Hydraulic - working pressure flow, independent from the tractor
Header, including attchment to the tractor
Band transporter 3.2 m
Support frame with hydraulic drive – complete
container unloading at 2.4 meters height
Tow class 1.4
Power at least 80 h.p.
Track - 1.4 meters or more