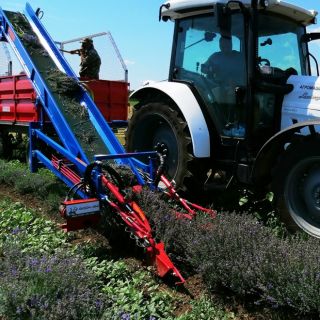 Lavender Harvester MKL 2R for trailer
MKL 2R is a harvester designed to cut lavender by means of one-side header mounted to the tractor and transporting band moving the cut lavender from the header to the hitched trailer.
A special mechanical unit lifts up the plants directly from the ground and the wave-shaped rubber band attracts them to the cutting device. Being cut, they are taken up by a moving transporter band which carries them to the trailer at the rear part of the tractor.
MKL 2R is driven by hydraulics. The steering is manual through a joystick and 12V electrical power is activating the electromagnetic distributor.
Productivity
0.37 acre/hour (0.15 hectars/hour)
Tractor speed
3.0 km/h
Cutting height from the ground level
minimum
0.1 m
maximum
0.55 m
Distance between lavender rows
1.4 m (0.7 м, 1.6 m)
Maximum opening of the header
0.7 m
Inclination of the header arms
from 0 to - 30 degrees
Type of cutting
movable knife and fixed counter-knife

Driving type: Hydraulic - working pressure flow, independent from the tractor
Header, including attchment to the tractor
Band transporter 4.5 m
Support frame with hydraulic drive – complete
Power 40-60 h.p.
Track - 1.4 meters