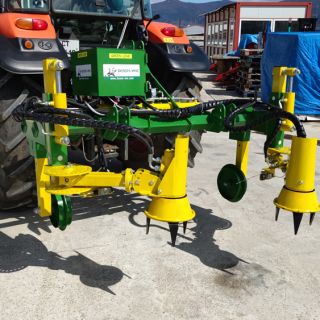 Machine for cultivating Lavender in rows – automatic FOL-02A
The Machine for cultivating Lavender in rows is designed to hoeing and breaking the soil between the rows in order to remove weeds.
FOL-02A is an automatic unit mounted to the 3-point linkage system of the tractor (front or rear) and it's driven by the hydraulic system of the tractor. The steering is manual by means of a joystick of 12V.
FOL-02A allows:
To position the cultivating heads to a width of cultivating 0 – 0.5 meters
to transport Machine hitched on the 3-point linkage packed to the size of the tractor.
setting of the height of the cultivating head according to the slope and/or the desired depth of cultivation.
side shift of the cultivating head is automatic and hydraulic, and there is also an opportunity to operate the heads from the command board.
All operations are driven hydraulically from the cabin of the tractor and command board.
*send us inquiry about Offer and availability
TECHNICAL DATA
| | |
| --- | --- |
| Model | FOL 02A |
| Width of positioning of the heads | from 0 up to 0.5 meters |
| Diameter of cultivating head | 0.25m |
| Cultivating depth | 0.05 - 0.13m |
| Hydraulic system of the tractor | 40 L/minute at 100 bars |
| Electric supply to the command board | 12V DC |
| Mounting to the tractor | 3-point linkage system |
| Number of cultivating heads | 2 |
| Side shift of the heads | automatic system |
| Weight of the machine | 400kg |